NEWS: DICT launches its First Regional Startup Acceleration Project in Bicol
Published: September 16, 2022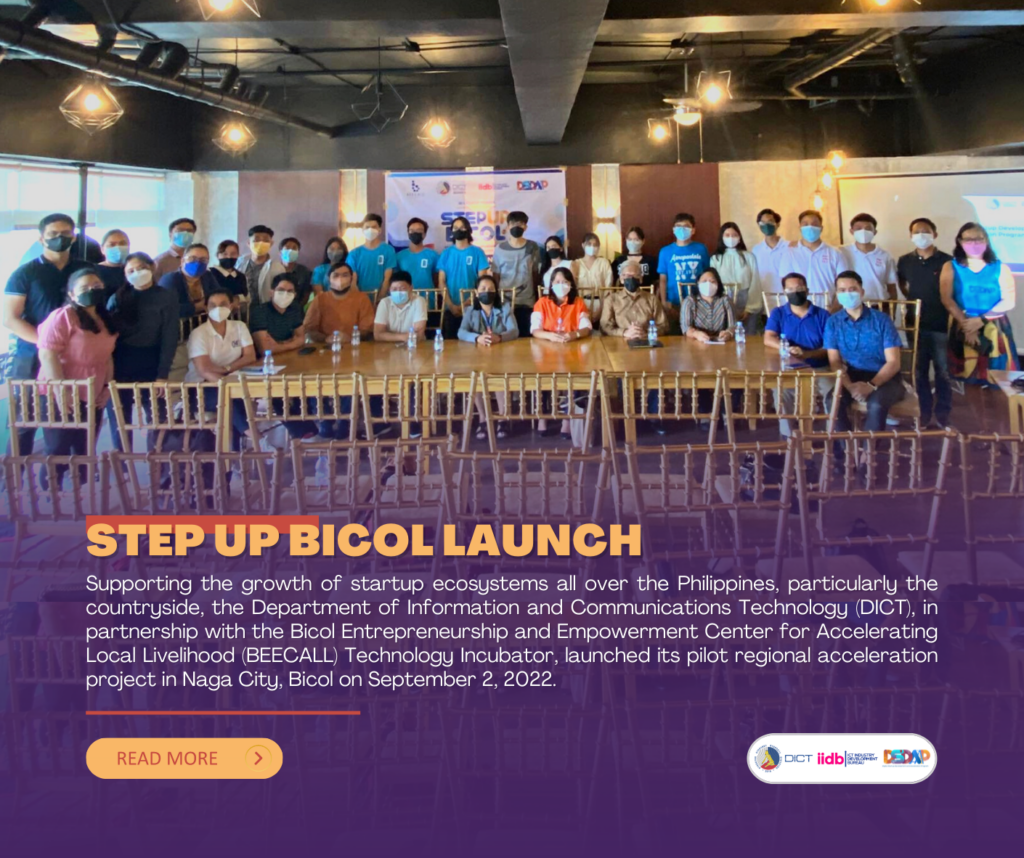 Supporting the growth of startup ecosystems all over the Philippines, particularly the countryside, the Department of Information and Communications Technology (DICT), in partnership with the Bicol Entrepreneurship and Empowerment Center for Accelerating Local Livelihood (BEECALL) Technology Incubator, launched its pilot regional acceleration project in Naga City, Bicol on September 2, 2022.
Naga City Mayor Nelson Legacion expressed his support to the Startup-Tailored Empowerment and People-focused Upskilling Project or STEP UP through a message delivered by Councilor Jose Perez. "The city will continue to support you until you all flourish with your startups," said Perez.
Councilor Perez as one of the principal authors of City Ordinance No. 2021-057 or the "Naga City Digital Innovation and Startup Ordinance," stressed the importance of initiatives to support and activate startups outside Metro Manila.
DICT – ICT Industry Development Bureau (IIDB) Director Emmy Lou Delfin discussed the mandates of the DICT, particularly the IIDB, in supporting the startup ecosystem especially in the countryside. She mentioned that the regional acceleration project was launched in Naga because of its naturally competitive startup ecosystem, as well as the proactive commitment of the LGU officials in the city. This is evident in Naga City's ranking in the performance assessment conducted by Startup Blink. Naga City has joined the top 1,000 cities for startup ecosystems globally, placing at 952nd this 2022.
Meanwhile, DICT Undersecretary for ICT Industry Development Jocelle Batapa-Sigue was optimistic about the transformation of the nine selected startups for the pilot project.
"This is only the start of our movement to drive the growth of startups in the countryside. Through the Digital Startup Development and Acceleration Program or DSDAP, we in the DICT further commit to expand support and accomplish the role required of DICT in the Innovative Startup Act together with the DOST and DTI." said Undersecretary Batapa-Sigue.
The nine selected startup teams which introduced their innovative ideas were Servisit, Gina, Dibit, Andale, Orange Country, Doormie, E-medi Book, PlayGig, and Dayaw Tech.
DICT OIC Regional Director Carmela Valencia emphasized the importance of this pursuit for startups in the idea stage. "Keep the fire burning. I hope all your future endeavors will be successful," said OIC director Valencia .
Present in the launching event were IIDB Director Emmy Lou V. Delfin, DICT OIC Regional Director Carmela Valencia, Executive Director of BEECALL TBI Joselito Ocol, Co-founder and Head of Community Management Jude Buelva, ICT Council & Bicol-Metro Naga, Inc. President Efren Daniel De Leon, Councilor Jose "Joe" Perez, Startup Development Committee Chairman Ferdinand Sia, Investment Promotions Officer of Naga and Project Manager of Naga City Startup Development Program Paul John Legaspi, and Corporate Secretary of Camarines Sur Chamber of Commerce Ma. Teresa Evangelista and DTI Division Chief Junelita Mora.