DICT Startup Grant Fund invites interested startups to register at the Startup Philippines Website. Read more to know more about how to register to the PSDP 
Published: April 18, 2023
Calling all aspiring and registered startups! You may now sign up and register to the Startup Philippines' Website to get your unique Startup ID#. 
You may refer to the instructions below to guide you through the registration process.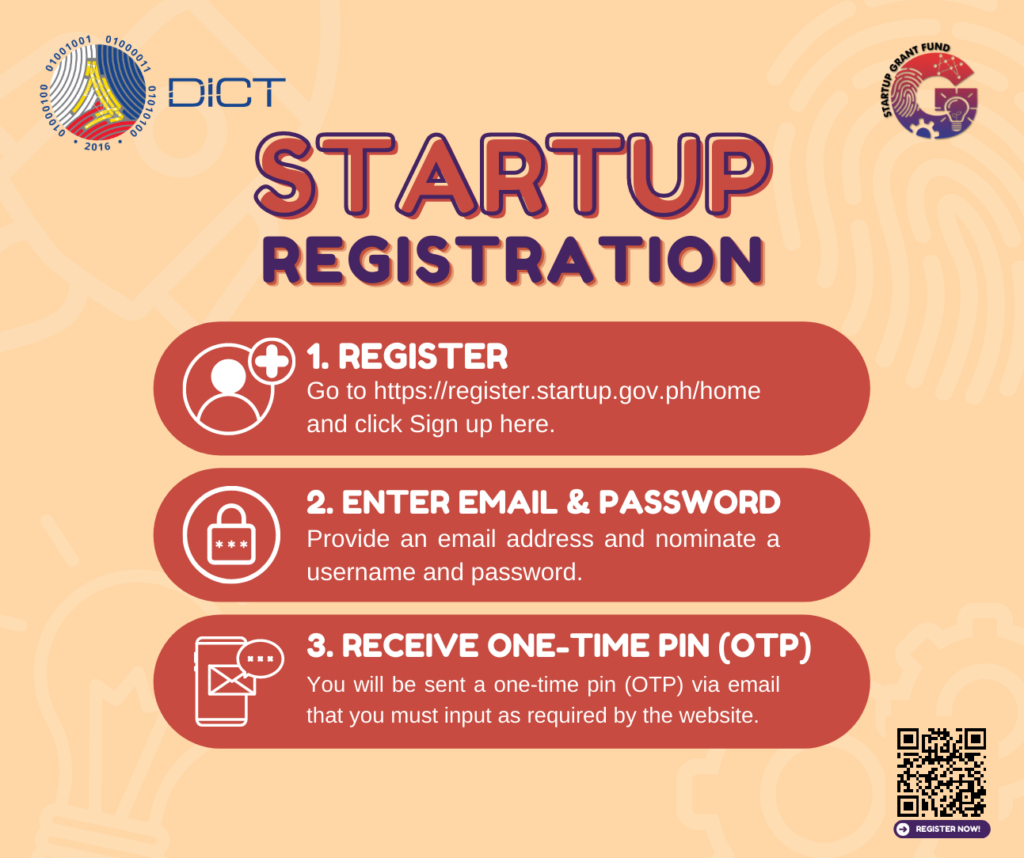 Go to https://register.startup.gov.ph/home and click Sign up here.
Upon clicking, you will be asked to provide an email address and nominate a username and password. Note that passwords need to be at least 8 characters long with an uppercase letter, a lowercase letter, a number, and a special character.
Through your nominated email address, you will be sent a one-time pin (OTP) that you must input as required by the website.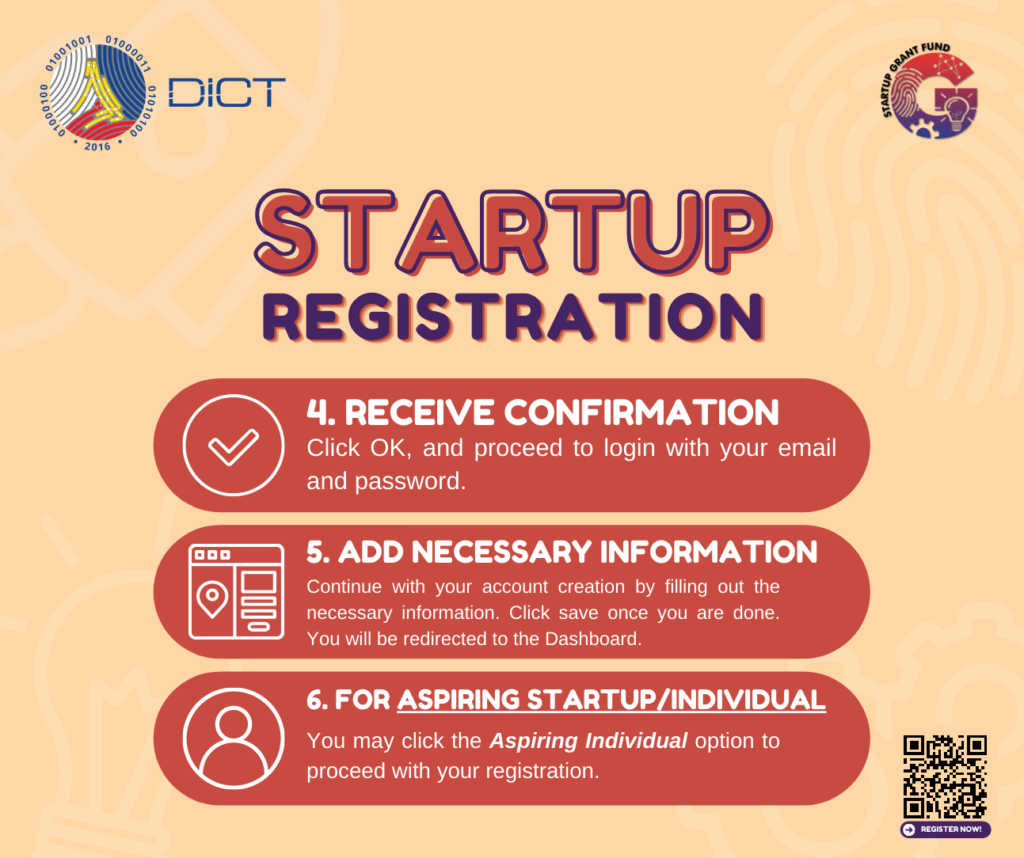 A confirmation message will appear on your screen. Click ok, and proceed to login with your email and password.
Continue with your account creation by filling out the necessary information. Click save once you are done. You will be redirected to the Dashboard.
If you are an aspiring startup/individual, meaning – you do not have the official documents for your startup yet, you may click the aspiring individual option to proceed with your registration.

Fill in the necessary information asked by the website. You will be asked to upload a scanned copy of your government issued ID. Along with this, you will have to choose from a variety of selections which industry sectors you are interested in.
Once you are done, click on the save button. This will then prompt a confirmation message stating that your account has been created, together with your unique Startup ID Number.
You may view your Company's information by clicking the My Company button in the Dashboard. You may also view your account information by clicking the My Account button.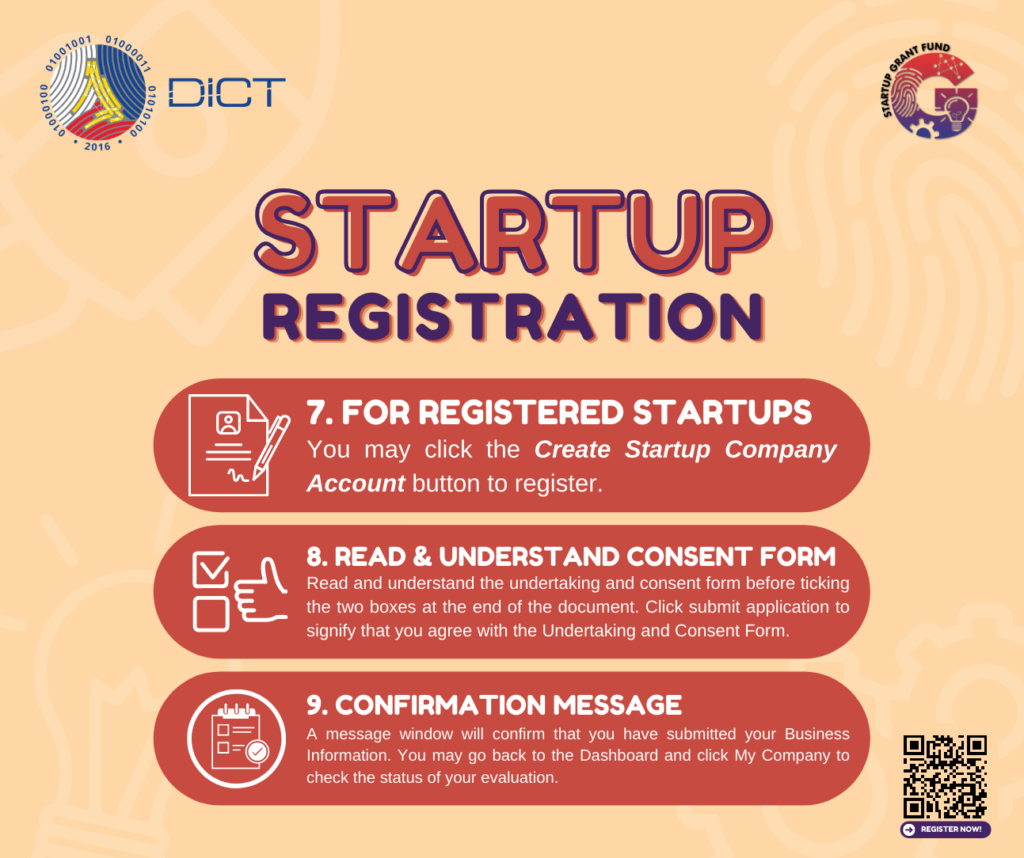 If you are a registered startup – meaning you have the official documents for your startup, you may click the Create Startup Company Account button to register. Note that you will have a unique startup ID# as a registered startup even if you primarily signed up as an aspiring startup.

You will be asked to fill in the necessary fields relevant to your startup. Click the Save button. This will then lead you to a confirmation window showing your Startup ID #.
You may click the Continue to PSDP Verification button for your startup to get evaluated by DTI representatives. Please note that having a Startup ID# does not equate to being a verified startup on the Startup Philippines Website. Verified startups are those already registered and successfully evaluated by the website's DTI representatives.
Upon proceeding with the PSDP Verification, you will be asked to fill in pertinent details on the Person-In-Charge. A valid government-issued ID also needs to be uploaded. Click next once you are done.
You will then be asked to fill in details about your business. You will also have to upload your Business' logo and proof of registration/government accreditation. Click next once finished.
Next, you will be asked to fill out more prompts on your business. Click next once accomplished.

After submitting all needed information and documents, an undertaking and consent form window will appear. Please read and understand the undertaking and consent form before ticking the two boxes at the end of the document. Click submit application to signify that you agree with the Undertaking and Consent Form.
A message window will confirm that you have submitted your Business Information. You may go back to the Dashboard and click My Company to check the status of your evaluation.
You are now registered to the Startup Philippines Website. Should you have any questions or concerns, you may contact the website's helpdesk via email helpdesk@startup.gov.ph