Startup Mentors Bootcamp convenes experts, educators to discuss startup fundamentals
Published: September 15, 2022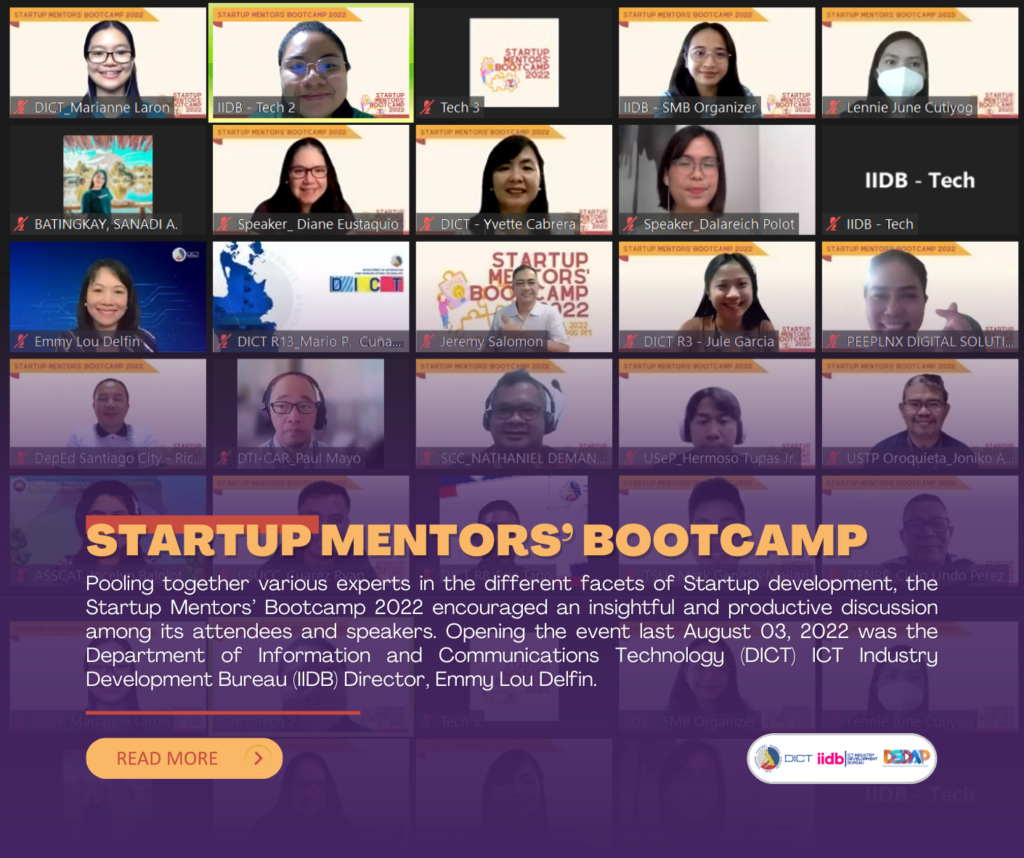 Pooling together various startup experts, speakers, and educators nationwide, the Startup Mentors' Bootcamp 2022 encouraged an insightful discussion on Startup development fundamentals to cultivate entrepreneurial thinking in building innovative, impact driven solutions.
The virtual bootcamp held last August 03, 2022 gathered partners and stakeholder from the Startup industry to share good practices in transforming ideas into potential startups that solve social problems, as well as to open discussions on developing entrepreneurial and technical skills among the educators.
DICT ICT Industry Development Bureau Director Delfin highlighted the need for the Philippines to adapt to the 4th Industrial Revolution, and how RA 11337, or the Innovative Startup Act, will help in developing countryside technology innovation and digital transformation. She added that educators are at the forefront of achieving this goal, highlighting the importance of constantly giving them opportunities for upskilling and reskilling.
Some of the speakers also shared their personal Startup journeys. The 2017 winner of the Breakthrough Junior Challenge Ms. Hillary Diane Andales highlighted the importance of having mentors in building one's startup career. Ginto Fine Chocolates/Dalareich Chocolate House Founder. Dalareich Polot shared three important lessons she learned from her Startup journey which include empathy, perseverance, and proper timing. She also suggested to the aspiring entrepreneurs and budding social Enterprises to start with their why and to get support from inner circles.
Meanwhile, discussions on Project Management and the technical know-hows of developing a Startup were facilitated by Founding Manager of Encephalon Technological Business Incubator Ms. Melani Cabrera, De La Salle University Intellectual Property Officer Pamela Raye Tadeo, Former Chief Operation Officer of ABS-CBN Johnny Sy, Zestagram Chief Executive Officer of Gladis Morales and DICT Consultant Diane Eustaquio.
The Startup Mentors Bootcamp was conducted in preparation for the upcoming Philippine Startup Challenge (PSC) 7. The Call for Applications to PSC 7 is currently ongoing and will end on September 30, 6 PM.
You may visit https://startup.gov.ph/philippine-startup-challenge-psc-opens-its-applications/ for more details. Or follow the DICT and IIDB Facebook pages for more real-time and up to date information on the DICT's various startup-related initiatives.